The original cocktail 'Pearl Maiden' made with a liqueur from the SHIROI series, La France in a bar in Higashi Hiroshima
The bartender made a lovely cocktail by using a SHIROI' series liqueur produced by CHUGOKU JOZO.
The key characteristic of the 'SHIROI' series is having plenty of fruit juice in the alcohol.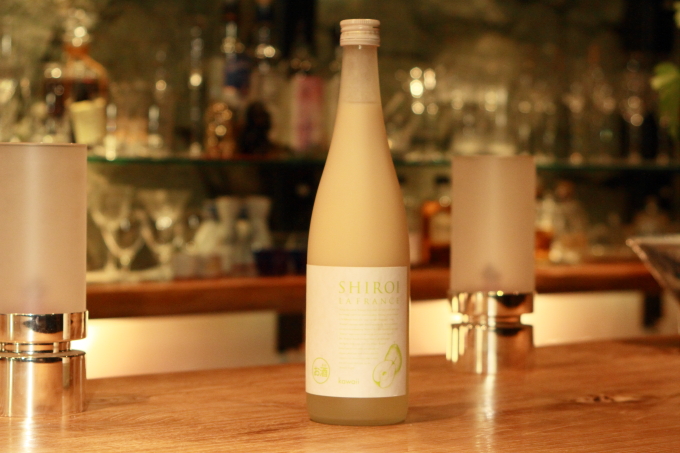 This time, Fukuoka, the head bartender of BAR enishi located in Saijo, Higashi-Hiroshima city, Hiroshima is going to make a cocktail.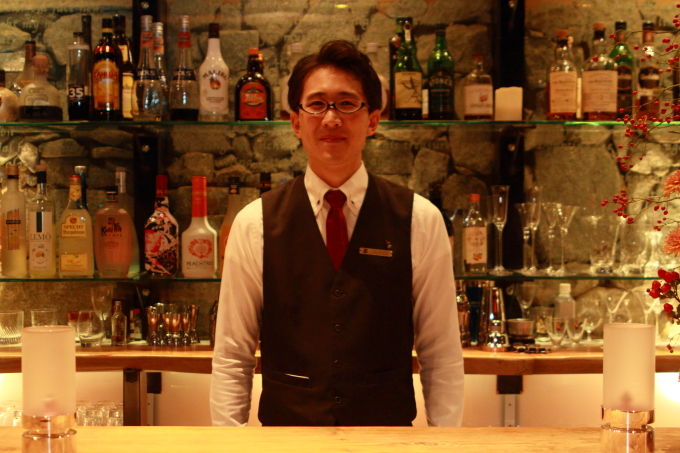 We asked him to make a cocktail for Yoshika, a regular customer of BAR enishi.
Yoshika is a 25 year old lady who lives in Saijo and works for a cafe.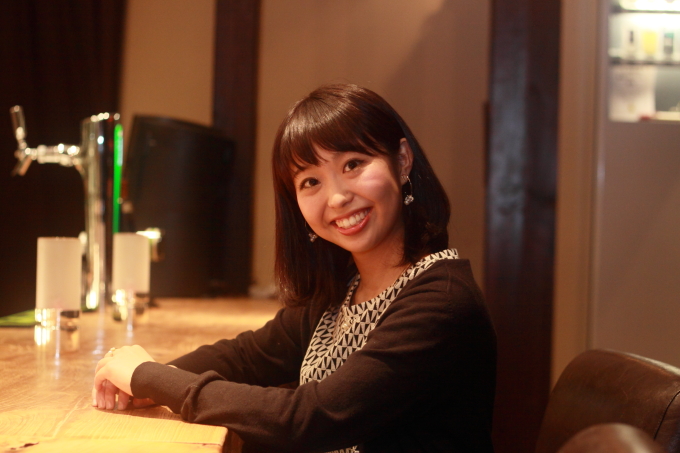 The base of the cocktail is the liqueur 'La France'.
Fukuoka is going to use these ingredients.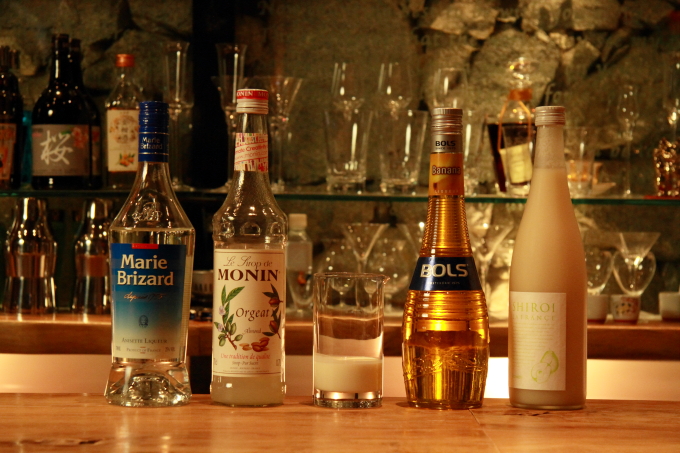 Yoshika is a small pretty lady, so I thought of making a cute one rather than making a sharp looking one.
Also, she likes pearl accessories as she has one on today as well, so I'll make her a pearl coloured cocktail.
I'm going to make a dessert cocktail that can be enjoyed after a meal.
Now he's going to make it.
Put the La France (4/6) and banana liqueur (1/6) in a shaker.

Add some cream (1/6) and almond syrup (1 tb).

Add some anise liqueur (2 dashes) and ice,

Shake it.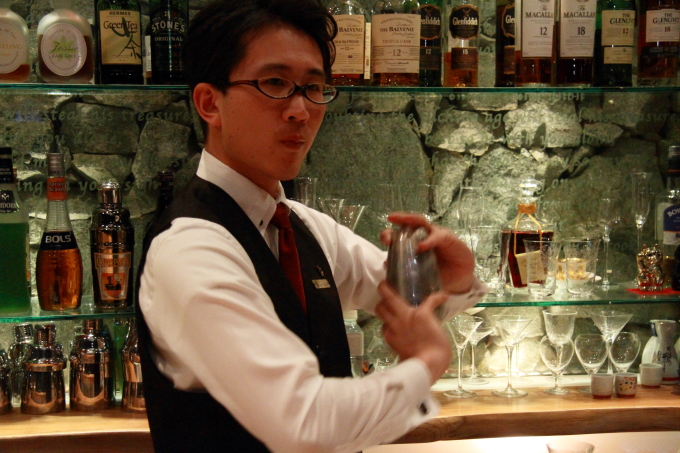 Pour the mix in a glass and it's complete.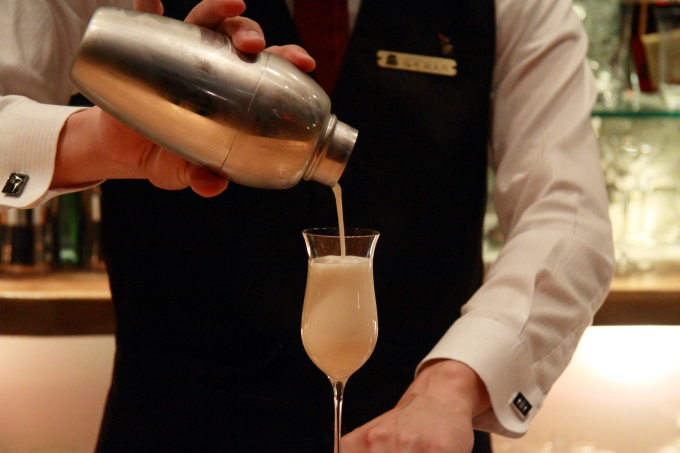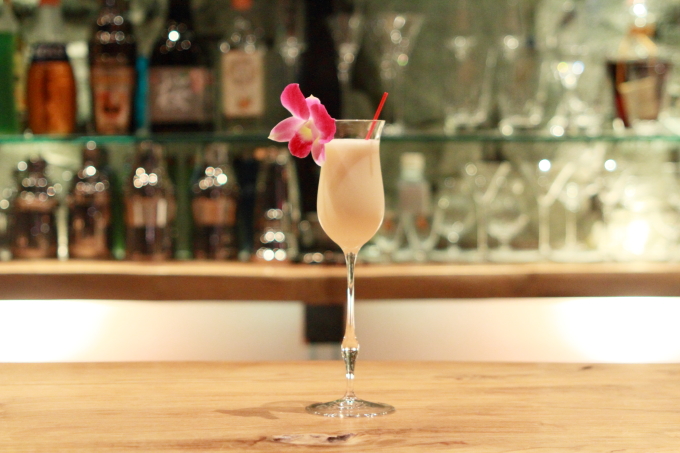 He served Yoshika the completed cocktail.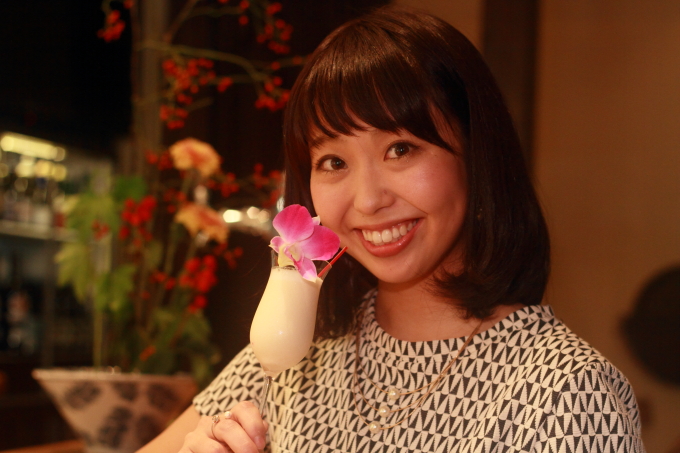 It's delicious!
It's like almond jelly.
It's sweet but has a clear taste with banana and La France flavours coming through.
Drink it with a skinny straw so that the balance between the sweetness and acid will be perfect.
How a cocktail is consumed is part of the recipe, isn't it?
This is definitely one for girls!
Any lady would have to feel like she was pretty drinking this cocktail at a girls meet up or on a date.
The cocktail 'Pearl Maiden' was born by Fukuoka imagining up something for Yoshika using the liqueur, La France.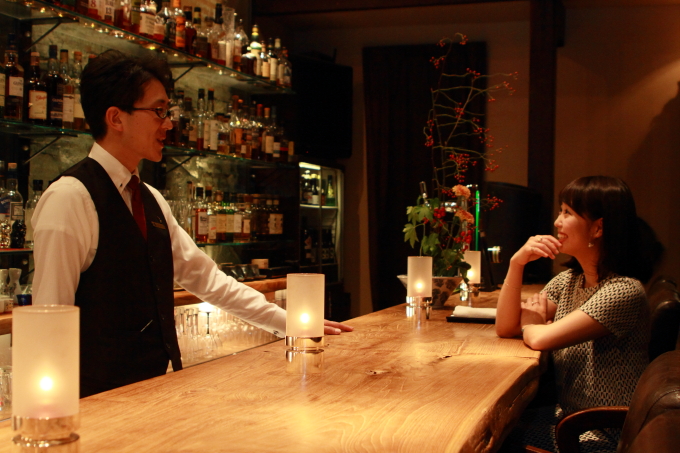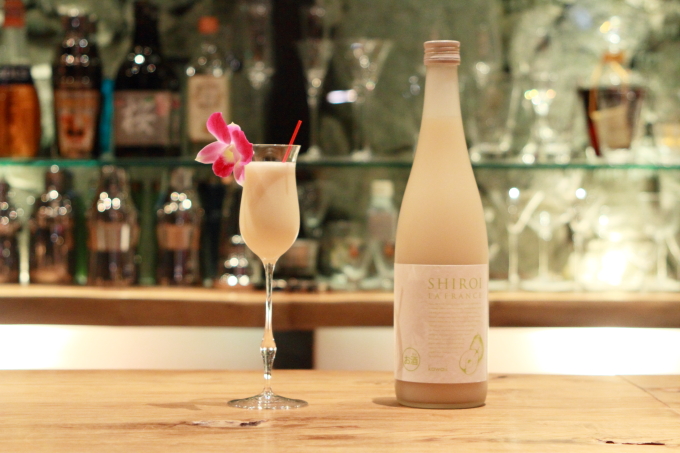 Thank you so much, Fukuoka and Yoshika.
[Production assistance]
BAR enishi
Address:4-8, Saijo Okamachi, Higashihiroshima-shi, Hiroshima, 739-0016, Japan
Tel:082-426-3570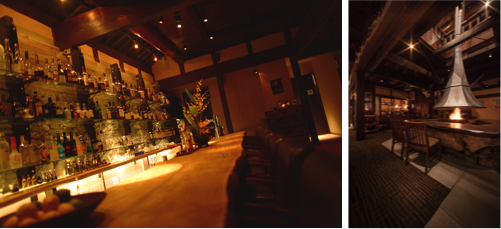 [Related article]
・Their original cocktail 'Setsuka' made at a bar in Kure
・The original cocktail 'pur femne' that is made at a bar in Hiroshima city